Blog
Synthetic Biotechnology
Surgical Synthetic Biotechnology: Editing Yeast With Cas-CLOVER & piggyBac
Combining the effective targeted cutting technologies of the Cas-CLOVER platform with the large cargo loads and seamless removal capabilities of piggyBac Transposase, our proprietary genome editing toolbox is at the forefront of surgical synthetic biotechnology. First, let's review how each of these systems work, their features and how they compare to similar technology.
The Cas-CLOVER System & Its Benefits
The Cas-CLOVER system is a one of a kind gene editing platform that results in superior screening capabilities, a higher percentage of full knock-out mutations, and overall more flexibility for target design and scaling. Cas-CLOVER has been in a wide range of recent studies, showing its effectiveness with larger deletions in the 8-50 bp range. In comparison, CRISPR/Cas9 only generates about 1-3 bp deletions, which is far less efficient when processing at larger scales.
Why would this specific feature matter to you?
Larger deletions are a huge feature with Cas-CLOVER, as it means an overall easier screening process. For example, Cas-CLOVER edited pools can be positively identified by performing quick gels as opposed to sending all samples out sequencing prior to any identification. Furthermore, the larger "sticky-end" deletions made by Cas-CLOVER result in high efficiency targeted knock-in or homologous recombination for the complete removal of whole genes. This means that markerless gene editing in yeast is highly efficient with Cas-CLOVER as we demonstrate below with the complete removal of the ADE gene without using selection markers.
Poseida Study Demonstrates Cas-CLOVER's Accuracy
As shown in a recent study (below) with Poseida Therapeutics (one of Demeetra's sister companies using the same technology but in the cell and gene therapy space), data from deep-sequencing and "unbiased" guide-seq both revealed almost undetectable off-target activity. Cas-CLOVER's accuracy can eliminate the risk of detrimental phenotypes that can be associated with inaccurate strain development (i.e. translocations).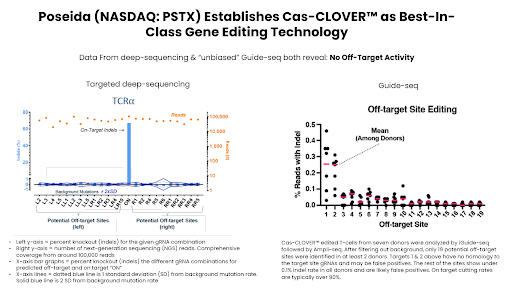 How piggyBac Transposase Works
One of the most versatile and widely adopted transposon systems in cells is the piggyBac platform, which is known for providing insertional mutagenesis or GOI expression and precise genome engineering through seamless excision. Specifically, piggyBac is a TTAA-specific, cut and paste transposon that's shown to function efficiently independent of host cell factors, as well as having a high propensity for integration into highly transcribed units, making it a superior tool for insertional mutagenesis for most applications.
The transposon piggyBac is being used increasingly for genetic studies. One study describes the modified versions of piggyBac transposase that have potentially wide-ranging applications, such as reversible transgenesis and modified targeting of insertions. piggyBac is distinguished
by its ability to excise precisely, restoring the donor site to its pre-transposon state. This characteristic makes piggyBac useful for reversible transgenesis, a potentially valuable feature when phenotype reversion is desired. [1]
Additionally, the piggyBac transposase is very versatile and has the capabilities of very large cargo sequences, with capacities of 200kb+ at high frequencies and across a vast array of organisms, including all yeast species ever attempted. In contrast to most other transposon systems, piggyBac doesn't have any overproduction inhibition, making deployment in new hosts very simple by enabling the use of specialized promotors that are commonly used for gene overexpression. Furthermore, piggyBac is also capable of efficient simultaneous integration of multiple different DNA sequences. [2]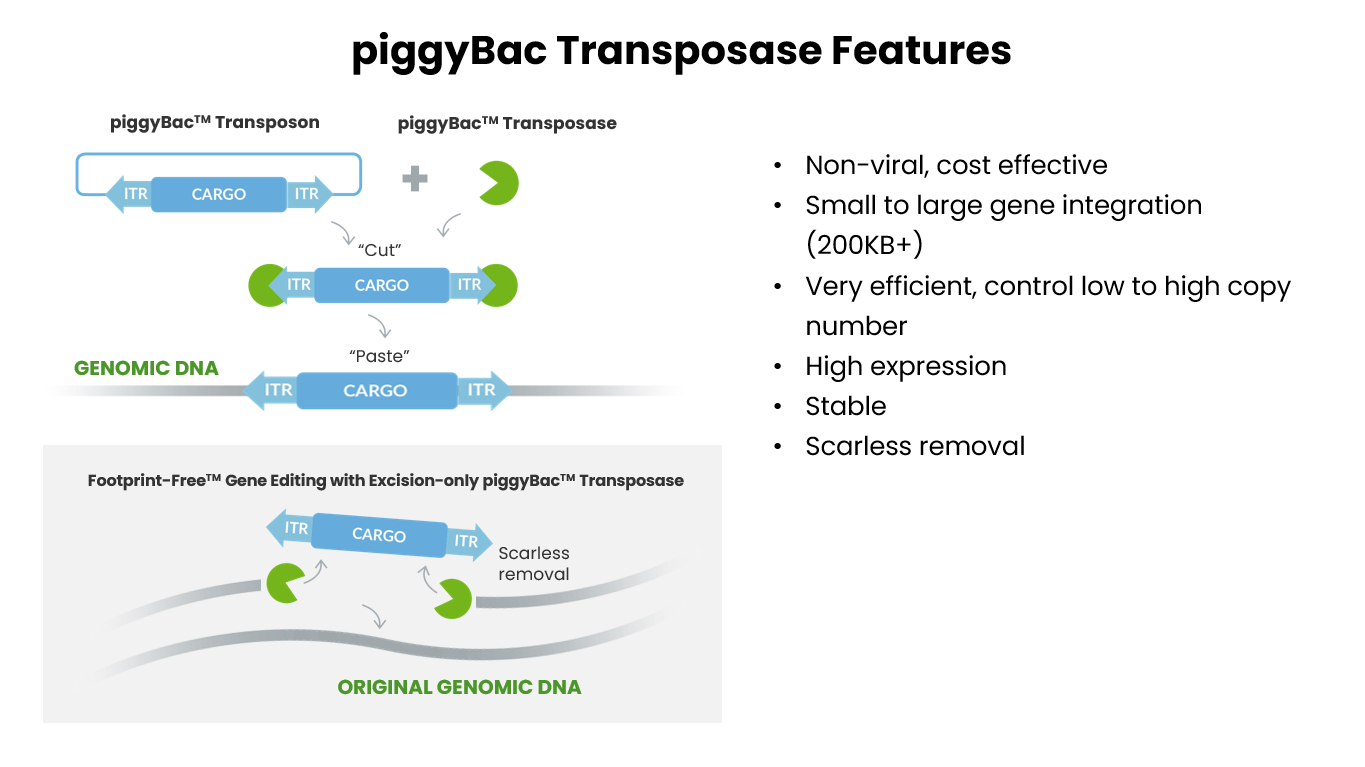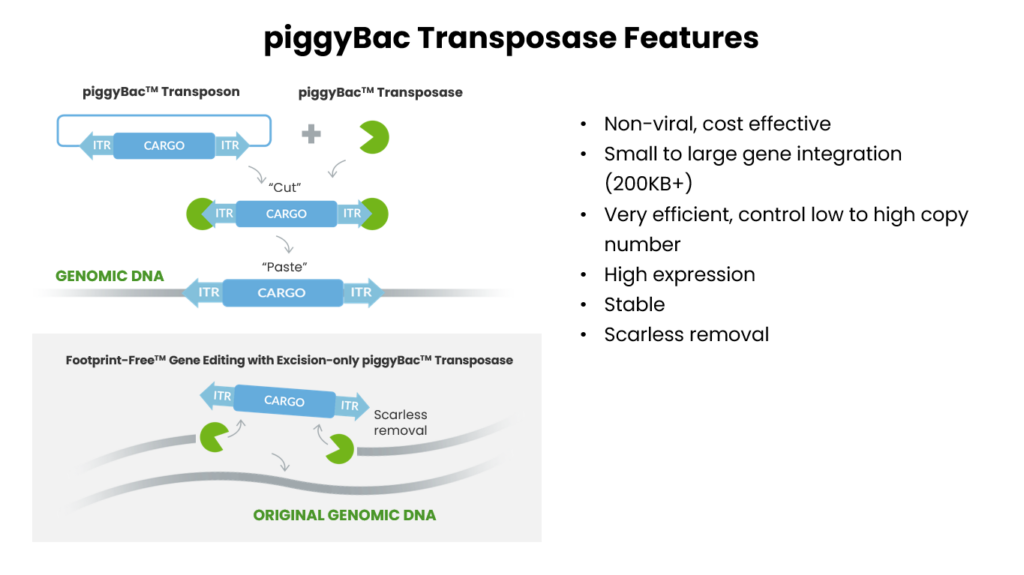 Combining Cas-CLOVER And piggyBac
There have also been multiple studies validating the effectiveness of combining Cas-CLOVER & piggyBac technologies to create "Footprint Free" gene editing. With this combination the options are endless, from metabolic engineering and industrial manufacturing to genome editing in yeast using Cas-CLOVER & piggyBac. Some of the most cited studies that combined a targeted nuclease like Cas-CLOVER with piggyBac provided seamless modification of difficult to engineer cells such as wild-type induced pluripotent stem cells, seamless gene correction of mutations in patient-specific iPSCs..
The figure below shows an overview of how stable Cas-CLOVER gene editing with piggyBac technology would work, with efficiencies from nuclease editing in iPS cells from 42 clones using a similar method: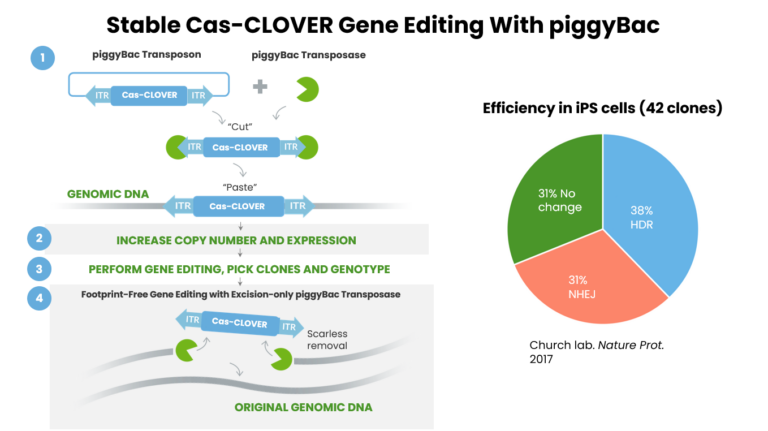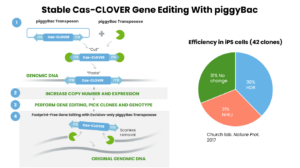 A Simple, Versatile & Efficient Tool For Yeast Strain Development
One of the biggest benefits to working with piggyBac in yeast development is that it's potentially active in all yeast strains, including difficult to engineer yeasts. Unlike CRISPR, one piggyBac vector can rapidly develop mutant libraries for loss (gene-trapping) and gain of function (enhancer trapping) across all species, thus creating an efficient platform. With piggyBac, genes can be easily mapped, and phenotype reversion is a completely seamless activity. The piggyBac system has the capabilities of expediting the screening process for multiple commercial yeast strains all within a single transformation step, and even without any preconceived knowledge of the strain's genetics or target site sequences – making piggyBac a huge plus!
Research teams can potentially screen thousands of commercial strains to determine if they are amenable to metabolic engineering, and tolerant of the end product.
Licensing Options
Demeetra AgBio holds the Cas-CLOVER and piggyBac licenses for research and commercial fields of Bioprocess, Industrial Biotechnology & Agriculture. We also offer licenses and strategic development partnerships with all of our products.
Interested In Learning More About Cas-CLOVER And piggyBac Surgical Synthetic Biotechnology?
Demeetra AgBio offers clear commercial freedom to operate on any microbialspecies, and simple accessible licenses to users. We feel the validated Cas-CLOVER activity is exciting for development as it allows numerous opportunities and can be combined or independent with piggyBac technology. Learn more about our research and how our team can help move your studies forward by contacting us today!
References
Xianghong Li, Erin R. Burnight, Ashley L. Cooney, Nirav Malani, Troy Brady, Jeffry D. Sander, Janice Staber, Sarah J. Wheelan, J. Keith Joung, Paul B. McCray Jr., Frederic D. Bushman, Patrick L. Sinn, and Nancy L. Craig. piggyBac transposase tools for genome engineering. PNAS June 18, 2013 110 (25) E2279-E2287; https://doi.org/10.1073/pnas.1305987110
Wagner, J., Williams, E., Alper, H. (2018). Developing a piggyBac transposon system and compatible selection markers for insertional mutagenesis and genome engineering in Yarrowia lipolytica. McKetta Department of Chemical Engineering, The University of Texas at Austin. https://doi.org/10.1002/biot.201800022