Blog
Agriculture Biotechnology
Recently, Demeetra confirmed the activity of Cas-CLOVER in stably regenerated transgenic tobacco by targeted inactivation of the RDR6 and PDS genes. In this study, the team at Demeetra analyzed the cutting efficiency of their Cas-CLOVER technology using different pairs of guides targeting the genes in tobacco. They were able to get extremely efficient gene editing in tobacco, especially after optimization, by screening trimmed shoots from callus material. If interested in more details, please see our previous article detailing the study here.
Cas-CLOVER demonstrated effective gene editing for these crop traits, so let's take a look at what was knocked out, how the experiment went, the study results and conclusions. The PDS gene was targeted in the model organism tobacco due to its pale yellow to white visual read-out, and making for easy phenotypic identification. There are 4 alleles of the PDS gene, and editing results are in the range of phenotypes that include green for no editing, yellow for 1-2 alleles edited, and white for 3-4 alleles edited. Additionally, visual phenotypes were validated genetically via multiple sequencing processes to confirm results. Yellow plants can be crossed to produce fully edited plants. Therefore, the data represent white phenotype as "% fully edited" and white + yellow "% edited."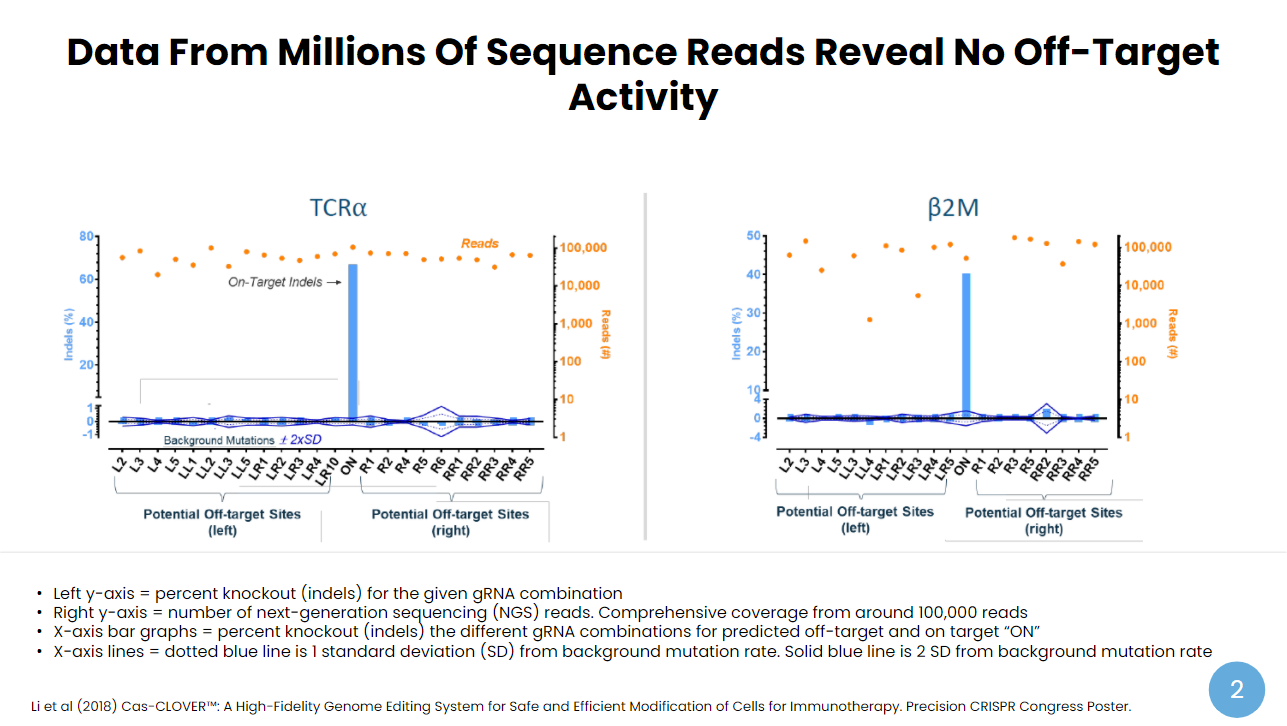 Conclusions From Editing Plant Traits With Cas-CLOVER
Overall, the data from this study demonstrates that Cas-CLOVER is a robust editing platform for increasing efficiencies in plants. The research team found that correctly targeted plants can be identified in a relatively short period of time compared to other editing methods to date. In the graph below, you can see that the editing efficiencies plateaued at the Trim 3 timepoint.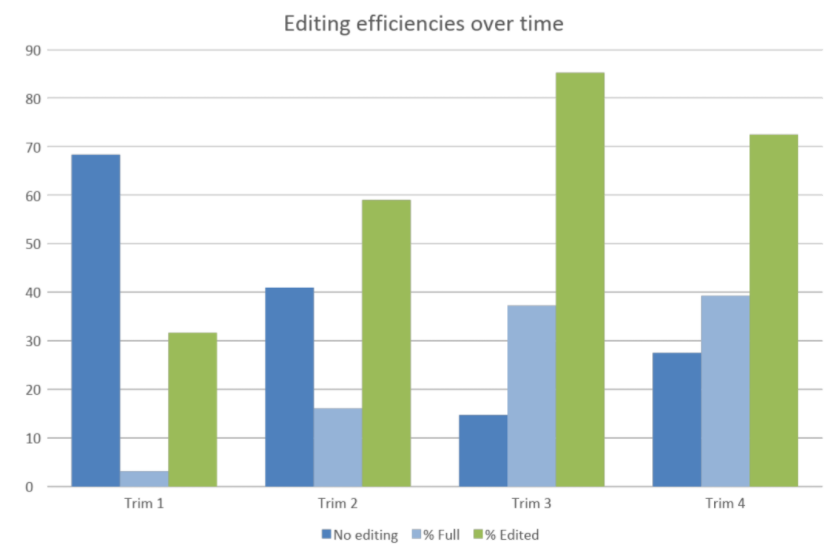 Next, to speed up and simplify and speed up the process, Demeetra aimed to test whole callus from plates for cutting efficiency with Cas-CLOVER. Whole callus were homogenized then DNA was extracted, PCR amplified, sequenced, and analyzed by editing software. These data are from a single promoter expressing Cas-CLOVER. Demeetra has tested multiple promoters with varying efficiencies.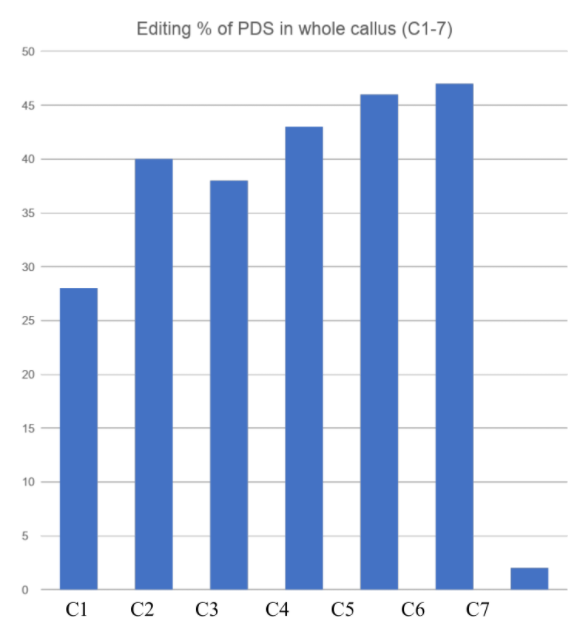 Examples Of Edited Sequences
As you can see from the sequence results below, relatively large deletions were made on a consistent basis with Cas-CLOVER. In comparison, CRISPR/Cas9 only generates 1-3 bp deletions. This means that Cas-CLOVER provides simpler, faster and more cost-effective screening of plants for editing; see our post on this.
Cas-CLOVER Stability Of Editing In Tobacco
In October 2020, the red samples below were put into rooting media, and then transferred to soil. These plants originally showed the white PDS knockout phenotype, then began to develop green new growth in rooting media. Using new growth from the top of mature plants (red below) to reaffirm cutting efficiency over time, Demeetra then screened the growth using editing software. These plants are currently in Demeetra's indoor grow facility, very green and healthy, and most importantly they have maintained PDS knockouts over 6 months (see below).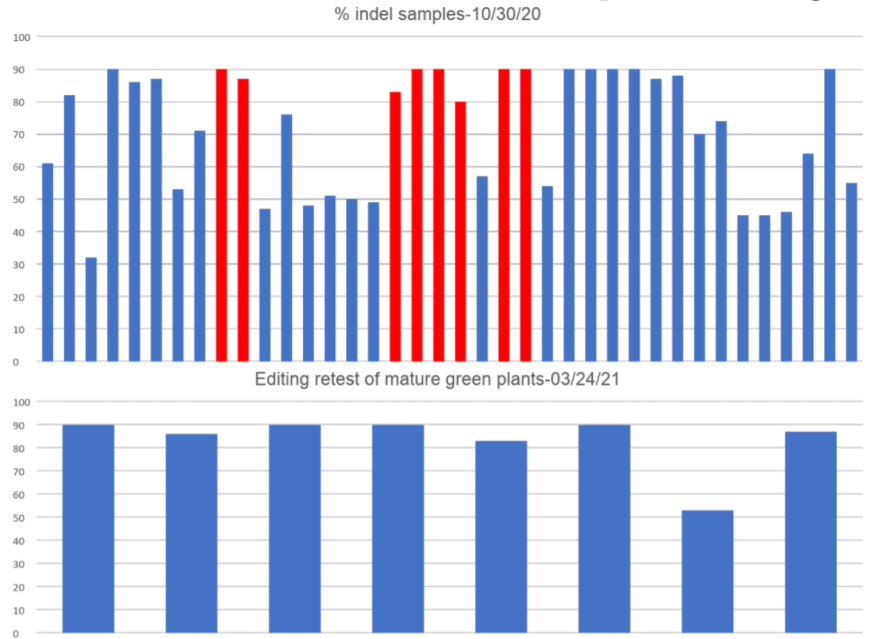 Interested In Learning More About Cas-CLOVER?
Demeetra offers Cas-CLOVER licenses for research and commercial fields of therapeutic bioprocessing, industrial biotechnology & agriculture. We also offer licenses and strategic development partnerships with all of our products. Learn more about our research and how our team can help move your studies forward by contacting us today!