Blog
Pharmaceutical Bioprocessing
As one of the world's top industries, pharmaceutical companies bring in billions of dollars and save millions of lives. Time and money goes into the process of research and development, drug discovery, and bioprocessing; the necessary parts of getting drugs to market that have potential to save a life. Like with any business, cutting costs and saving time where possible while not decreasing quality is essential.
In terms of bioprocessing, scientists have found that modifying current mammalian expression platforms where Chinese hamster ovary (CHO) cells are most commonly used could be the answer.
CHO Expression Systems In Biotherapeutics
According to a review on how CHO cells are used in bioprocessing by Fan et al., CHO cells are used in more than half of approved therapeutic proteins due to their robust growth that fairs nicely in producing large-scale pharmaceuticals.1 Possessing the ability for human-like post-translational modifications is an added benefit as this is typically necessary in biotherapeutics development.
One drawback to using CHO cells is the clonal selection process. This is the rate limiting step in bioprocessing since it takes a lot of time and money to ensure single clones of an intended target are selected out of all the random possible gene integration.
Glutamine synthetase (GS)-based methionine sulfoximine (MSX) is one of the commonly used CHO expression systems. 1 Selecting for highly productive cell lines is a complex balance of the stringent selection for cells expressing high levels of the gene product of interest while selection markers such as methionine sulfoximine (MSX) rule out cells without gene of interest. Since MSX inhibits GS, only cells that overexpress GS will be able to survive.
At the same time, studies show that the endogenous GS from CHO cells decrease clonal selection capabilities; whereas, deleting the GS gene enhances the selection process. 1
Gene editing, specifically GS knockouts (KO) compared to the typical GS expression system that have been the gold standard for years has improved bioprocessing by allowing for faster clonal selection and overall reducing the cell-line development timeline.1
Role Of Novel Gene Editing To Enhance CHO Expression Systems
Novel gene editing proteins such as Cas-CLOVER, Cas9, transcription activator-like effector nucleases (TALEN), and zinc-finger nucleases (ZFN) target specific genes in a deliberate manner. This is compared to the labor intensive process of previous tools that randomly insert, delete, or cause a frameshift in many genomic sites with the hopes that a mutation will occur in the target  sequence.
Combining newer gene editing tools that have specific targeting capabilities with the robust CHO expression systems has significantly impacted bulk cell culture productivity. There's an increased rate of high-producing cells resulting in improved efficiency.1  
The figure shows a bulk culture selection comparison of one of the original CHO expression systems, CHOK1SV that contains a functional GS gene to that of GS-KO CHO cells. It's clear that more non- and low-producing cells have been eliminated in the GS-KO system.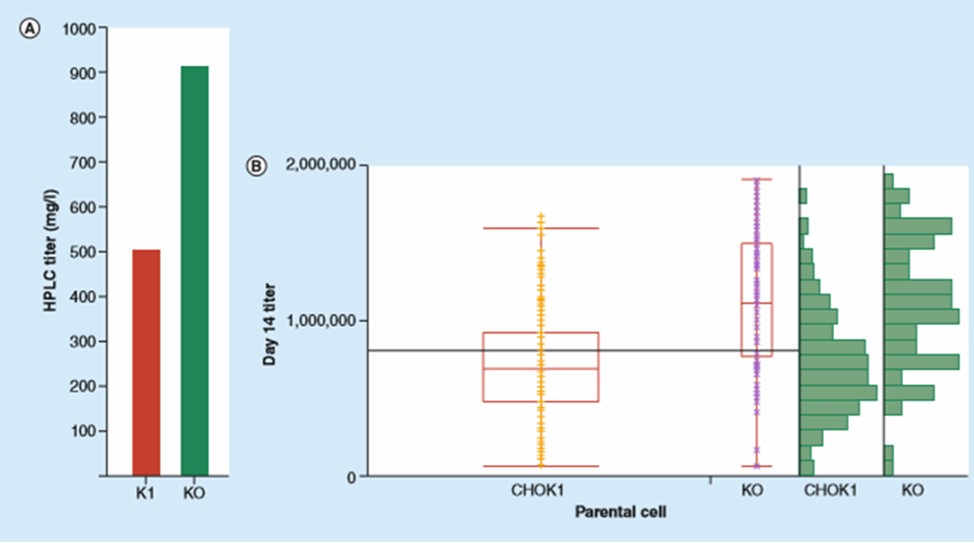 Future Of CHO Expression Systems
While this approach is still in the beginning stages, it's likely to become a powerful tool in areas such as agriculture, industrial biotech, and pharmaceutical therapeutics. Studying the full genome of CHO cells will enable scientists to continue to discover unique characterizes and improve stability and production. The future of science is exciting and with improvements in bioprocessing, less time consuming.
Companies like Demeetra AgBio recognize the impact that not only gene editing tools, but GS-KO CHO cells can have on the future of science, bioprocessing, and ultimately saving lives. In particular, Demeetra offers licenses for their novel gene editing Cas-CLOVER system as well as GS-KO CHO cell lines either sold separately or together to improve research and/or large scale operations. There's no need to change the current GS vector expression system with gene of interest (GOI), promoter, and selection marker. Adding your system to GS-KO CHO cells can boost efficiency.
Reach out to us and learn more about the services we offer for your research.
References
1 Fan, L., Frye, C. C., & Racher, A. J. (2013). The use of glutamine synthetase as a selection marker: recent advances in Chinese hamster ovary cell line generation processes. Pharmaceutical Bioprocessing, 1 (5), 487–502. https://www.openaccessjournals.com/articles/the-use-of-glutamine-synthetase-as-a-selection-marker-recent-advances-in-chinese-hamster-ovary-cell-line-generation-proc.pdf